Skip to Content
Serving Valued Customers in the San Francisco Bay Area
MightyMite Termite Services works with a variety of both residential and commercial properties property types and owners in the Bay Area. Whether you are part of a Homeowner's Association (HOA), residential or commercial property owner, renter, or community manager in the San Jose Bay, CA Area, who is concerned that your property has or is at risk of having an infestation, we are dedicated to providing you with a quality inspection and solution for your property. Our company has been helping residents and commercial property managers since 2012, and we have built a sterling reputation for exceptional knowledge, efficient assistance, and the most effective termite treatments available today. We invite you to join our growing business family by contacting us for your free estimate. Together, we will end your termite problem at the source and protect your property from invasion for life.
Our Wide Array of Termite Control Services
MightyMite Termite Services makes it our mission to give you fast, practical solutions to your infestation issues and minimize interruptions to your daily life. Our techs are fully trained and certified to combat the spread of termite colonies through a variety of expert customized methods. We will always work closely with you to provide the tailored solutions you deserve for your unique species of invader and strive to satisfy your unique needs and budget. Some of the top termite services we offer our customers in the Bay Area include:
Direct Termite Treatments: Direct termite treatments use safe, naturally derived chemicals to eliminate termites within their colonies. We also use direct fumigation to treat home and commercial interiors that already have infestations. Though direct treatments have little to no residual effects, they shorten treatment time – and interruptions to your life and business – significantly.
Indirect Termite Treatments: Indirect treatment options let the termites do the extermination work for you. By treating the soil, concrete, or masonry work in and around your home or business property, termites come into contact with deadly (for them) substances and carry it back to their colonies. Over a few weeks, this efficient, cost-effective treatment will end your infestation and provide a residual protective barrier around your home.
Rodding & Drilling Treatments: Rodding and drilling treatments are time-tested indirect extermination methods that maximize potency and minimize family and employee danger. Using rods to penetrate the soil and drills to penetrate concrete and wood, kills termites below the surface and keeps your tenants, loved ones, and employees safe from any low-toxicity chemicals used in the process.
Drywood, Subterranean & Dampwood Termite Treatments: Different species of termite require specific treatment methods to end their threat. Our company is adept at knowing the perfect option to stop your infestation as quickly as possible and protect your property for years to come.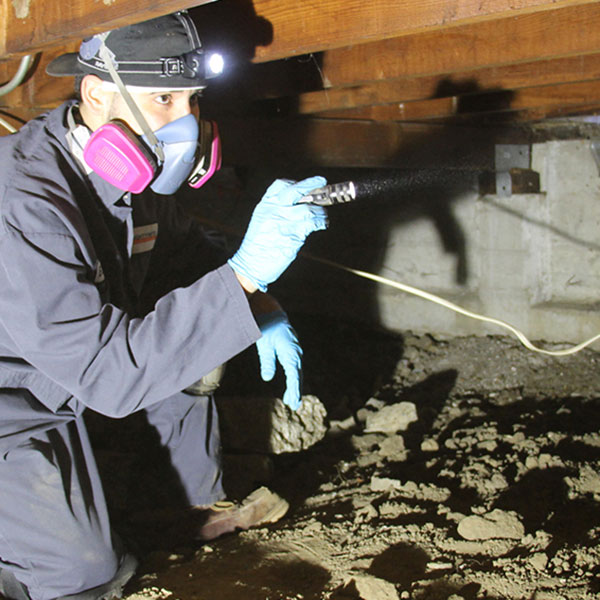 Your Local Termite Control Experts
At MightyMite Termite Services, we can stay effective by staying responsive to individualized customer service that does more. More residential and commercial termite control customers in the Bay Area turn to us than almost any other company because we go beyond the standard call for extermination. We also provide unbeatable, multi-year warranties and intelligent prevention plans to safeguard your home or commercial property against future infestations. Whether you own a restaurant, hotel, apartment building, or single-family home, we devise termite elimination solutions that work best for your specific situation, species of termite intruder, and budget. Our company will rid your property of all unwanted guests and ensure they do not come back using the industry's most modern methods, equipment, and products available today. We invite you to contact us for your free inspection today and discover the professional difference MightyMite Termite Services can make.
Serving Customers throughout the San Francisco Bay Area
MightyMite Termite has served the San Jose Bay Area since 2012. Locally owned and operated, we are accredited by the Better Business Bureau and pride ourselves on being your local termite control experts. Based in Campbell, CA, we serve over eight counties in the Bay Area, including:
Contact MightyMite Termite Services to Put an End to Infestations
MightyMite Termite Services is a local company offering exceptional local termite control in the Bay Area. We work with every type of residential and commercial property and strive to minimize danger, interruptions, and environmental impact in everything we do without sacrificing our service quality. When you think you may have a termite infestation, do not waste precious time trying to find a company that can do it all on a custom budget for you. Simply contact MightyMite Termite Services for your free estimate, and we will give you trusted control and protection services that last for life.
Contact Mightymite Termite Services Today for a Free Termite Inspection!