Skip to Content
Multi-Unit Residential Termite Control in the Bay Area, CA
Apartment & Condo Termite Services by MightyMite Termite
While termites operate the same no matter where they are — feeding on wood and causing destruction — not all residential customers are the same. At MightyMite Termite, we offer thorough and effective multi-unit residential termite options in the Bay Area. Whether you live in an apartment, condo, or duplex, our termite plans can solve any issue from an isolated incident to an infestation that's taken over an entire building. The most important thing is to call MightyMite Termite immediately at the first sign or assumption of termites because one thing is for sure: if left untreated, your termite problem will only get worse.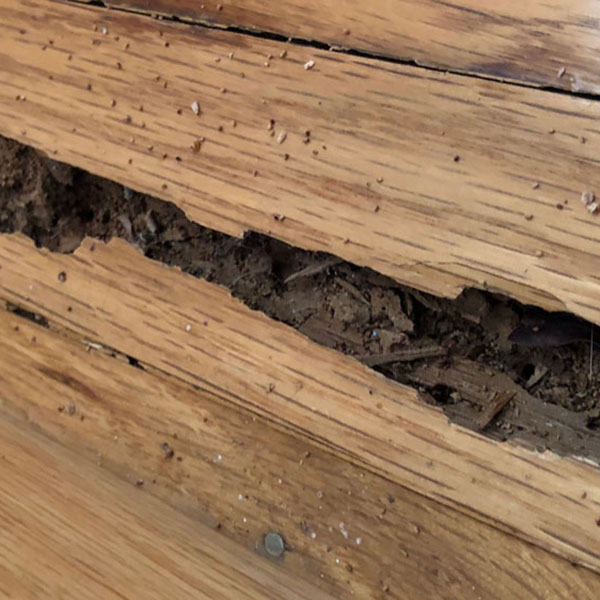 How Do Termites Get into Buildings?
Any apartment, condo, or other residential building that contains wood can be the target of a termite infestation. While most termites feed on damp and wet wood, there is also a drywood termite species found in the Bay Area that prefers wood with low moisture content. That makes all of us pretty vulnerable to various termites. Even dampwood termites that feed on wet wood commonly found in contact with the ground can find enticing wet wood at higher levels caused by leaking pipes or appliances. By building mud tubes, termites can climb up long concrete foundations and behind walls to access wet wood at higher elevations. Simply put, it doesn't matter if you're on the ground floor or the top floor, termites can be a problem, and you should have a termite inspection completed by our professional team if you suspect your apartment or condo may have termites.
Property Managers Rely on Our Professional Termite Services
Property managers and landlords are required to keep habitable living conditions for tenants in their buildings. While a termite infestation may feel overwhelming and worrisome, especially in larger buildings, MightyMite Termite offers multi-unit residential termite inspections to locate termite infestations, assess the amount of damage, and treat the conditions that caused the termite attraction to begin with. We offer ongoing monitoring services and inspections to ensure the termites don't return in full force. For termites that have destroyed wood on your property, we offer wood repair and replacement services to get your property back into sturdy shape. Don't let termites give your property a bad reputation and steer away potential tenants. Let MightyMite take care of your termite problems.
Termite Services for Homeowners Associations in the Bay Area
Homeowners Associations (HOA) are responsible for maintaining and keeping up the property and common areas in residential neighborhoods. While a termite infestation might be one homeowner's problem, termite colonies can grow and spreading quite rapidly. Chances are, if they've found the ideal condition in one neighborhood home, they will find suitable feeding areas in other homes close by. MightyMite Termite has the resources to provide termite services for HOAs that include treatment plans, inspections, and proactive monitoring to keep your residential development in the clear from termite infestations and structural damage.
Schedule a Free Apartment or Condo Termite Inspection
Apartments, condos, and multi-unit residential buildings are at just as much risk for termites as any other wood structures. Whether you're a landlord, property manager, tenant, or member of a Homeowners Association, the good news is that MightyMite Termite is here to protect you from the damage termites can cause with our residential termite services in the Bay Area. Our licensed and trained professional crews will not only provide effective termite control options for your living space, but we'll look for and educate you on the conditions that are attracting termites so we can reduce their feeding opportunities. Contact the experienced team at MightyMite Termite for a free termite inspection today.
Contact Mightymite Termite Services Today for a Free Termite Inspection!