Skip to Content
Termite Damage & Repair in San Jose & Santa Cruz
Termite Damage & Repair Services in San Jose Area
Restoring Your Home After a Infestation
Often a termite infestation is discovered purely by accident when a homeowner stumbles upon it, while on other occasions it takes a thorough inspection from a termite control professional. However it comes to light, a termite infestation is a problem that must be addressed promptly, before these unwanted visitors can wreak major damage on the premises. Sometimes, though, it turns out that a lot of destruction has already been done to the building. What then?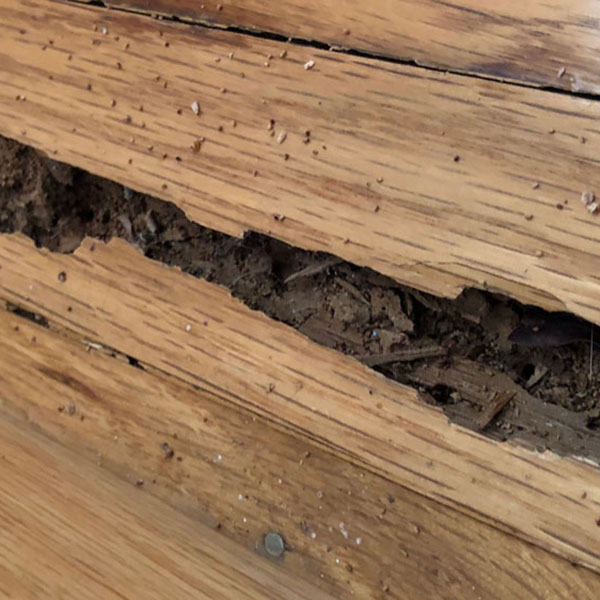 When It Is Time to Call in the Professionals
Some people elect to repair the damage as best they can without outside aid—but this may not be a good strategy. An experienced termite control professional probably knows more about effective repair procedures than you do, and is more likely to be able to provide a dependable long-term solution.
The first order of business is to ensure that there are no active termites in the area—this is another task that should best be left to the pros. Termite infestations—and the destruction they cause—can be difficult to detect. In many cases, there is hidden damage that only a trained eye will be able to spot. Your technicians will be able to make a full appraisal of all the harm done to the premises, from the minor to the severe.
We specialize in treating wood damage caused by the following termites and wood destroying organisms:
Drywood Termites
Subterranean Termites
Wood Boring Beetles
Fungus
Dry Rot
In the case of Drywood Termites, it is nearly impossible for the damage to become so extensive that it destroys a home before the owner is aware of the presence of termites. Conducting regular termite inspections–which are recommended every three to four years–can help minimize the risk of irreparable structural damage to your home.
Contact Mightymite Termite Services Today for a Free Termite Inspection!