Skip to Content
Recognizing the Signs of a Termites and Infestation
Think you might have a termite infestation in your home or commercial property? This question always leaves homeowners and property managers with a sinking feeling, as they know they will have to act fast before their structure suffers damage from invading termites. MightyMite Termite Services in the Bay Area, CA, can help. Our professional expertise and decades of combined industry experience allow us to easily recognize the telltale signs to look for on both residential and commercial properties. Termites act in very specific ways according to nature. They travel towards food and moisture, letting nothing stop them in their quest to feed their young and grow their colony. Our team looks for these signs in places termites gravitate towards – the soil around the foundation, crawlspaces, basements, and more – and devise professional strategies to eliminate the threat of their voracious hunger. If you think you may be under attack by termites, contact us for your free consultation and assessment. We will come to you and offer insights and effective treatment options that make all the difference.
Common Signs of Termite Infestation
MightyMite Termite Services' trained professionals have a keen eye for termite infestation. Our local company has become the trusted local resource in the fight against termites in the San Francisco Bay Area. However, there are common indicators of possible termite infestation you can observe around your home or commercial property. The most common signs include:
Pellets: These sand-like buildups, also known as pellets, are the waste from termites after tunneling through your structural materials. They are small, pepper-colored, and are found under wood or kickouts.
Mud Tubes: These long brown trails of hollow, tube-like structures are the superhighways by which termites travel. As they move away from soil and up and into structures, they leave signs with these tubes.
Discarded Wings: Many species of termites can fly. Discarded wings along the foundation or masonry work of your home or commercial property are among the most common signs you have termites.
Brittle Wood: If you discover discarded wood around your property, try to break it. If you have hollow timber that is soft, or easily broken, that may indicate termites' presence.
Wood Bubbles: Termite infestations can cause your hardwood floors or walls to bubble. Because they hollowed out the hard heart of the wood and left only a thin surface covering, air will become trapped and cause that surface layer to swell.
Head Banging or Chewing Sounds: When termites sense danger to their colony, they bang their heads or wiggle their bodies, and it creates a quiet clicking noise. Additionally, termites are loud eaters. The soldier termites who love to chew your woodwork make audible chewing noises as they eat.
Next Steps after Infestation
If you notice any of the aforementioned signs of infestation, do not take the risk. Contact MightyMite Termite Services at your earliest convenience for a thorough, no-cost assessment and confirmation of a colony's presence. Our state-licensed inspector will comb through every area of your home or commercial property then provide a detailed report on the status of your termites (if any). The inspection should only take approximately two hours, depending on the style of your property. Using this data, our company will be able to provide you with the guidance you need to make the right treatment choices for your property, going over all the options we offer to permanently rid you of termites.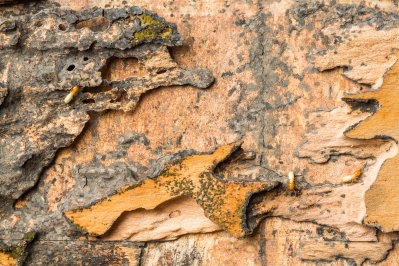 Our Full Range of Termite Treatments
Once you decide to protect your property from a termite infestation, there is no better partner to turn to than MightyMite Termite Services. We provide our residential and commercial clients with a wide array of effective, professional termite treatments that work. Together, we will halt the destruction of your property and the eradication of your infestation right at the colony's source through expert options such as:
Preventative Termite Treatments
Indirect Vs. Direct Treatments
Drywood Termite Treatments
Subterranean Termite Treatments
And more
Contact MightyMite Termite Services for All Your Treatment Needs
Termites can be a nightmare for property owners. They are always hungry, looking to expand their colonies, and can cause millions of dollars in damage to homes and businesses in the U.S. every year. Do not let them push their way into your floors, ceilings, basement, or foundation. Get in touch with MightyMite Termite Services and let us help you take your interior back with the expert termite treatments you expect from the best. Contact us today to schedule your free estimate.
Contact Mightymite Termite Services Today for a Free Termite Inspection!